Vlatka Horvat & Tim Etchells
Not Standing in Place
Mit Anne Bean, Caroline Bergvall, Season Butler, Tania El Khoury, Sharon Hayes, Hock E Aye Vi Edgar Heap of Birds, David Horvitz, Peter Liversidge, Harun Morrison, Ahmet Ögüt, Katrina Palmer, Dan Perjovschi, Dread Scott & Schwar zenbach Kompl ex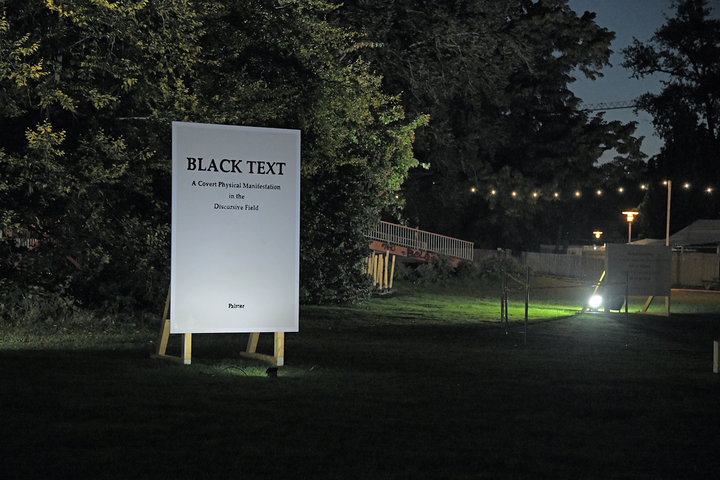 Here, some things are not standing in place – things simultaneously absent and present. In this strange time – the second year of the pandemic, one year after the big Black Lives Matter protests, another year of escalating climate crisis – we are thinking a lot about change and stasis. It is a paradoxical moment: for all that is shifting, there are still many things – ideas, statues, ways of thinking – taking up space they should never have had at all.
With their eyes on the present, the past and the future, London-based visual artist Vlatka Horvat and theatre-maker Tim Etchells have asked international artists to think about monuments and things they might like to mark, celebrate or draw attention to today. New monuments. Things to stand – temporarily – in place.
Arising from this process, 14 imaginary monuments will be realised on the Landiwiese for the duration of the Theater Spektakel. At once simple and complex, humorous and provocative, these monuments remind us that we live in a fraught time, where further change still needs to happen.
In her work, Horvat investigates the relation- ships between people, objects and physical space. With installations, drawings, photography, interventions and performances, she often hints at things that are absent and only made present in the spectator's imagination – as for example with «Monuments» (2018), a series of poetic photographs featuring the artist's hand holding everyday materials. Etchells is an artist with a long history with the TheaterSpektakel. Most recently he presented all 36 of Shakespeare's plays in eight days with his theatre group Forced Entertainment (2018), and installed a large-scale installation on the Landiwiese (2020). In one of the conversations with the festival in the course of the pandemic Etchells hinted, «Vlatka and I have been talking about asking a group of artists to imagine new monuments for the now.»
A starting point for thinking about monuments is the question of what we consider worthy of attention in public space. Who is included in this we? What might we share? What kinds of stories might artists want us to think about? What kinds of ideas and experiences do they want to give space, voice and visibility to in the public sphere?
The artists invited by Horvat and Etchells have created alternative monuments, playful interventions in the form of flags, billboards and other structures inscribed with text. These works mark everything from personal stories and interests to forgotten histories, marginalised experiences, surprising ideas or even fictional events. Absent and present at the same time, these monuments are summoned in language and in the imaginations of people visiting the site.
Perhaps through an encounter with these works a moment can be created on the Landiwiese in which we can think together – not about a return to some supposed normality, but about a shift in values, and the possibilities that lie ahead. (mvh)
Artistic direction and cast
| | |
| --- | --- |
| | |
| Bilder | ZTS/Christian Altorfer, ZTS/Kira Barlach (1 - Katrina Palmer: Black Text: A Covert Physical Manifestation in the Discursive Field 2 - Dan Perjovschi: Words Are Monuments 3 - Dread Scott: Monument to Stranger in the Village 4 - Tania El Khoury: They Knew 5 - Caroline Bergvall: ShelTer 6 - Anne Bean: RORRIM) |
Landiwiese
Installation, Imagined monuments
Premiere, co-production
An inclusive event
Performance
On 19 August «Not Standing in Place» will be launched with a short text-based performance on the Bühne am Ufer by the project's curators Vlatka Horvat and Tim Etchells
Guided Tours
See here for details about the guided tours with Yara Dulac Gisler and Phil Hayes
Thanks
The presentation at the Zürcher Theater Spektakel is supported by Kanton Zürich Fachstelle Kultur, Ernst Göhner Stiftung and Max Kohler Stiftung
More
Shows
shows from today
Th 19.08.

Zugang frei

Fr 20.08.

Zugang frei

Sa 21.08.

Zugang frei

Su 22.08.

Zugang frei

Mo 23.08.

Zugang frei

Tu 24.08.

Zugang frei

We 25.08.

Zugang frei

Th 26.08.

Zugang frei

Fr 27.08.

Zugang frei

Sa 28.08.

Zugang frei

Su 29.08.

Zugang frei

Mo 30.08.

Zugang frei

Tu 31.08.

Zugang frei

We 01.09.

Zugang frei

Th 02.09.

Zugang frei

Fr 03.09.

Zugang frei

Sa 04.09.

Zugang frei

Su 05.09.

Zugang frei