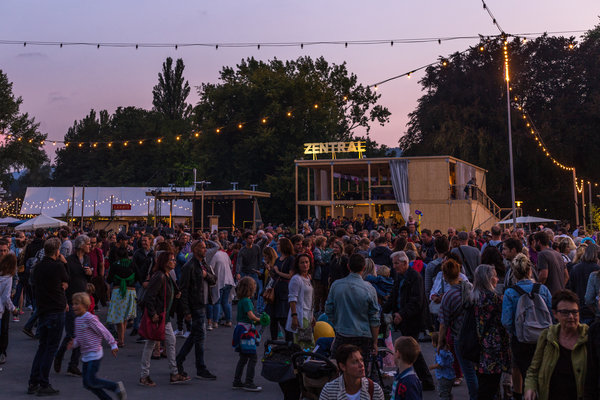 The route to a diverse, accessible, cooperative and sustainable Zürcher Theater Spektakel
It was one of the initial aims when founding the festival on the Landiwiese to make art accessible to everyone, as opposed to the city's elitist cultural institutions. A lot has happened since. The Theater Spektakel as well as Switzerland have changed significantly, as have the demographics of the City of Zurich. An accessible, international contemporary festival for Zurich requires continuous enquiry and development. We examine how to reach our goals with the help of team workshops, coaching and consultation.
Affiliation – creating a space for everyone
We see the Theater Spektakel as a social space, which we as hosts want to shape in cooperative, inclusive, sustainable and participative ways.
Our goal is to reflect our social diversity at all levels of the festival – the programme, the staff, the audience – and to create additional opportunities for participation, reflection and exchange. Artists, visitors and staff members should feel welcome and comfortable at the festival, regardless of gender, nationality, ethnic and social origin, religion, disability, age or sexual orientation. The festival shall be a space free of discrimination and if any adverse experience should arise, we will immediately deal with it. We consider ourselves very privileged to have visitors who are amongst Europe's most curious and open-minded audiences. Their readiness to engage in new formats is remarkable. We will continue to cherish this relationship and add to Zurich's diversity with an ambitious programme.
Accessibility – breaking down barriers
In order to be a «festival for everyone» it is important to break down barriers and obstacles of all kinds step by step.
We explicitly wish to create an offer for people who have less financial resources, a different cultural or social background or different capacities than the «classic» festival goer. For people with disabilities, the Theater Spektakel has achieved a great deal – be it through contextual access aids or structural measures on the festival site. Additionally, we have continuously expanded our offer of workshops, our discourse programme and mediation events in the past years. Through concessions as well as free suspended tickets, we want to make sure that no one is excluded from visiting the festival due to their financial situation. It is our goal to be a workplace for an increasing number of people from diverse backgrounds and with different abilities.
Partnerships – creating networks for artists
The creation of the Zürcher Theater Spektakel as an international meeting of the independent dance and theatre scene continues to characterise the festival's image and its cultural and political mission within the City of Zurich.
The Theater Spektakel has always been a platform for young and emerging artists, especially from the global south. Within the international landscape of festivals, we assume our role as a supporting partner of artists and their work – as co-producers, through meeting platforms for young artists or through the annually awarded ZKB Patronage and Acknowledgement Prize. In the course of the corona pandemic, the possible consequences for the arts are currently given particular attention. Our programme intends to address different perspectives and the relationship between artists and audience. Furthermore, the festival aims to contribute to the development of the performing arts by pursuing projects at the interfaces of other art forms and social disciplines.
Sustainability – reducing our ecological footprint
We not only wish for a lasting effect of our artistic programme but also for our festival operations to be as environmentally compatible and sustainable as possible.
Since 2008, we have continually sought to improve the ecobalance of the festival in the areas of energy, waste, mobility and infrastructure with various measures. Knowing that the biggest leverages might be where one suspects them only at the second or third glance, we want to submit ourselves to a critical reassessment in the near future.
Our aim is to trade old perspectives for new ones. We are aware that such processes take time as well as a new approach to mistakes and discussions. This also implies the willingness to make oneself vulnerable to criticism. Therefore we seek the support of experts and engage in continuous discussions within our team. We thank all our partners who provide us with thought and action not least with their financial support, including our main partners Zürcher Kantonalbank, Swiss Re (sustainability sector), the Swiss Arts Council Pro Helvetia (diversity sector) and the Denk an mich Foundation (inclusion sector) as well as the international festivals with whom we are in dialogue.
The festival direction, June 2021