Theater Hora
Planet Hora – Film on demand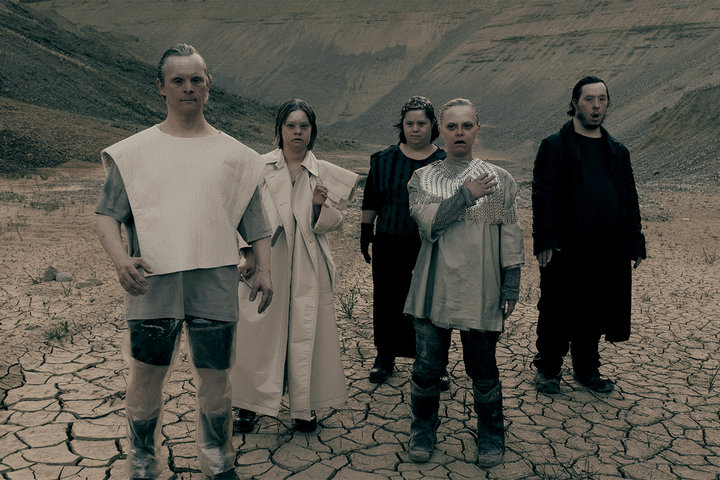 What happens when Theater Hora travels into the future? To unknown planets inhabited by strange organic forms, bureaucrats, philosophers and creatures which have better things to do than work? Find out in «Planet Hora», a brilliant science fiction movie, when the «Horas» explore distant galaxies.
Theater Hora is one of Switzerland's best known independent dance, theatre and performance companies. It is also a workplace for people with an officially certified «mental disability». Since the change of artistic direction in 2020, the company has been taking time off. Time to think about how the people at Theater Hora would like to live and work with each other. Together with the members of the ensemble, the Hora'Band and the staff, the artistic direction has elaborated a new work model.
This model was employed not only behind the scenes of «Planet Hora» but also in addressing the script. That's why the film features not only aliens and robots but also topics such as work and recreation. (zts)
Please note: You are watching a preview. Coloring and sounddesign will be adjusted and some special effects added. Enjoy!
Artistic direction and cast
| | |
| --- | --- |
| | |
| Mit | Noha Badir, Remo Beuggert, Gianni Blumer, Andy Böni, Matthias Brücker, Cécile Creuzburg, Caitlin Friedly, Robin Gilly, Simone Gisler, Nikolai Gralak, Matthias Grandjean, Julia Häusermann, Lucas Maurer, Serafin Michel, Tiziana Pagliaro, Yanna Rüger, Fredi Senn, Stephan Stock, Simon Stuber, Fabienne Villiger sowie die Hora'Band: Denise Wick Ross, Dr. Vree, Enrico Rizzi, Lukas Selinger, Roli Strobel, Dario Zanni |
| Konzeption | Yanna Rüger, Stephan Stock |
| Regie Yanna | Rüger |
| Co-Regie | Heta Multanen, Stephan Stock |
| Drehbuch | Hora Ensemble und Ralf Fiedler, Yanna Rüger, Heta Multanen, Stephan Stock |
| Kamera | Heta Multanen |
| Ton | Thomas Jeker |
| Szenografische Umsetzung | Thomas Giger, Charlotte Martin |
| Kostüme | Sophie Reble, Sabrina Bosshard |
| Musik | Thomas Jeker, Hora'Band |
| Schnitt | Heta Multanen |
| Licht | Christian Eckstein |
| Technik | Christian Eckstein |
| Dramaturgische Beratung | Ralf Fiedler |
| Regieassistenz | Anna Fierz |
| Technische Assistenz | Lara Hausheer |
| Theaterpädagogik | Anna Fierz, Fiona Schmid |
| Produktionsleitung | Adrian T. Mai |
| Agogische Betreuung | Fiona Schmid, Amadea Schütz |
| Praktikum | Magdalena Neuhaus |
| Zivildienst | Noah Beeler |
| Setbau | Daniel Pfister, Holzplus |
| Bild | Heta Multanen
 |
theaterspektakel.ch
Sci-fi flick
Co-production
Duration
approx. 1:30 hrs.
Language
German, Swiss German
Surtitles
English
An inclusive event
Public Viewing
The film will be screened on Sat 21 and Sun 22 August at 21 hrs at the venue Am See (Rote Fabrik). For more information and tickets click here
More
Shows
shows from today
Mo 23.08.

CHF 15.–/5.–

Tu 24.08.

CHF 15.–/5.–

We 25.08.

CHF 15.–/5.–

Th 26.08.

CHF 15.–/5.–

Fr 27.08.

CHF 15.–/5.–

Sa 28.08.

CHF 15.–/5.–

Su 29.08.

CHF 15.–/5.–

Mo 30.08.

CHF 15.–/5.–

Tu 31.08.

CHF 15.–/5.–

We 01.09.

CHF 15.–/5.–

Th 02.09.

CHF 15.–/5.–

Fr 03.09.

CHF 15.–/5.–

Sa 04.09.

CHF 15.–/5.–

Su 05.09.

CHF 15.–/5.–