Lagartijas Tiradas al Sol
Tiburón
Mexico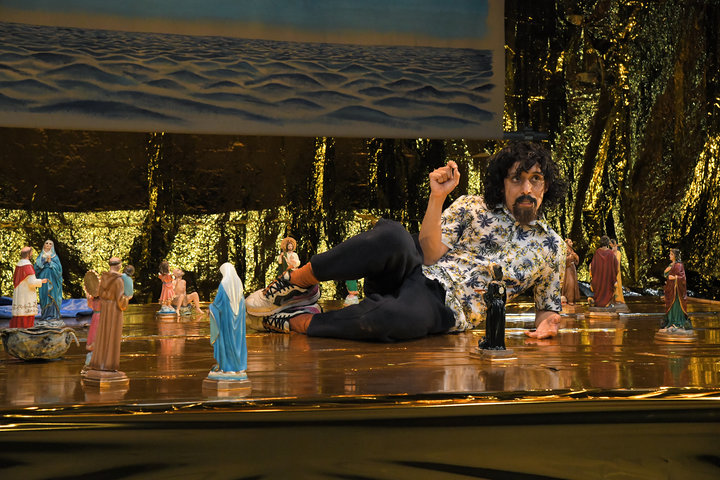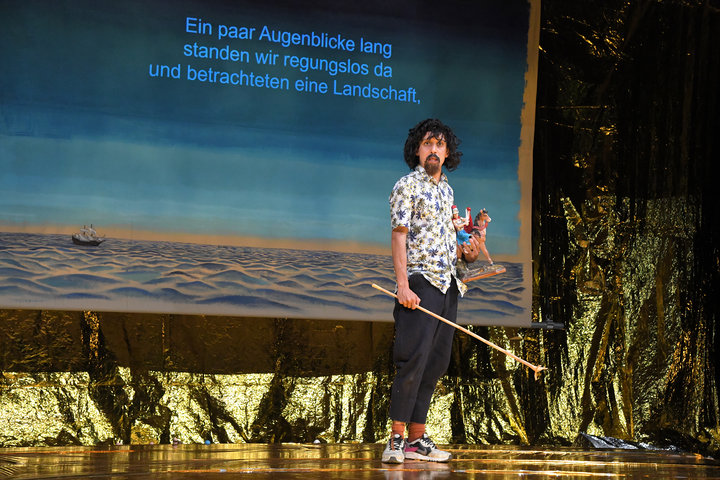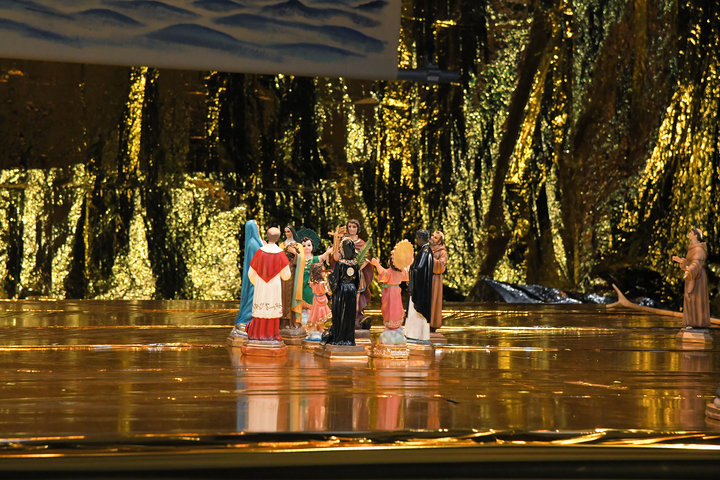 They are tenacious, stubborn and very creative: Since 2003 and with impressive consistency, the collective Lagartijas Tiradas al Sol, founded by Luisa Pardo and Lázaro Gabino Rodríguez, has brought to life books, radio, film and theatre shows focussed on Mexico and its diversity.
«Things are the way they are, but they could also be different» is the collective's credo. Its way forward into a different future is based on a critical assessment of the past. Currently, the company is working on a 32-part «inventory» of the multiple forms of democracy in Mexico's 32 federal states. «La democracia en México 1965–2015» is an indepth analysis of those different forms. «Tiburón», the eighth part of this long-term project, tells the story of José Maria de Barahona, a Jesuit from Seville, who travelled to Tiburón Island in 1539 in order to christianise the indigenous Tocariku. The letters he wrote on the island were published in 1645 under the title «Triumphs of Our Holy Faith among These Tribes, the Most Barbaric in the North». They are one of the sources of «Tiburón».
This solo performance skilfully combines reenactment with historical documents, research, object theatre and videos of a trip to the island. In a condensed form, «Tiburón» examines the possibilities and the consequences of intercultural encounters. (esc)
Artistic direction and cast
| | |
| --- | --- |
| | |
| Text & Idee | Juan José Saer, Elisa Ramirez Castañeda, Cesar Aira, Rosana Guber, Fernando Benitez, Olivier Debroise, Michael Taussig, Nigel Barley |
| Performance & Koordination | Lázaro Gabino Rodríguez |
| Co-Regie | Francisco Barreiro |
| Raum & Licht | Sergio López, Lázaro Gabino Rodríguez |
| Dramaturgie | Luisa Pardo |
| Malerei | Pedro Pizarro |
| Grafikdesign | Juan Leduc |
| Künstlerische Beratung & Video | Chantal Peñalosa |
| Übertitelung | Dòra Kapusta (deutsche Übersetzung), Denise Geiser (Operator) |
| Foto | ZTS/Christian Altorfer |
Production
| | |
| --- | --- |
| | |
| Koproduktion | Teatro UNAM, Zürcher Theater Spektakel, Lagartijas Tiradas al Sol
 |
Rote Fabrik, Aktionshalle
Theatre, missionary exploration
Co-production
Duration
1:30 hrs.
Language
Spanish
Surtitles
German
Age
15 years plus
An inclusive event
Sound inductively amplified
Safety Concept
For this event, a COVID certificate is necessary. Please present your ID or passport along with your COVID certificate at the entrance. There is also an obligation to wear masks. See here for more information about your visit to the Theater Spektakel
Post-performance talk
Sat 28 August
Cooperation
An event in collaboration with IG Rote Fabrik
More
Shows
shows from today
Sa 28.08.

20:00 - 21:30

CHF 35.–/15.–

Su 29.08.

18:00 - 19:30

CHF 35.–/15.–

Mo 30.08.

18:00 - 19:30

CHF 35.–/15.–