Dorothée Munyaneza
Mailles
Ruanda  / France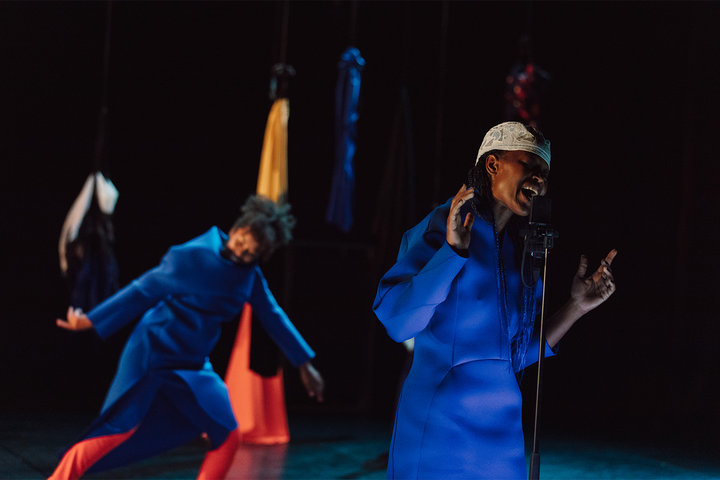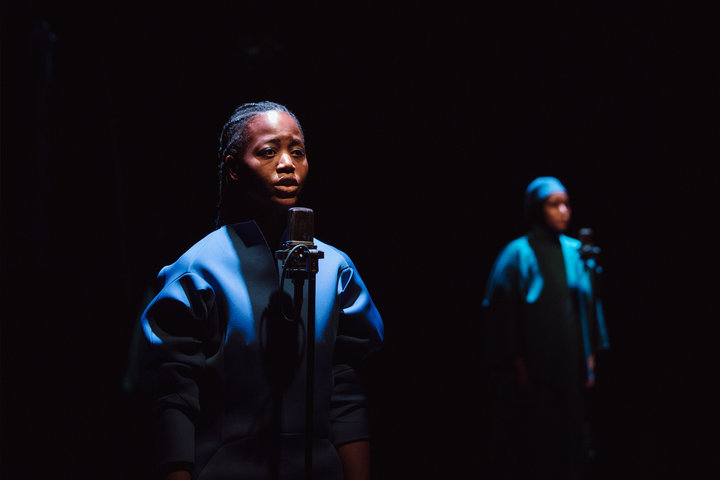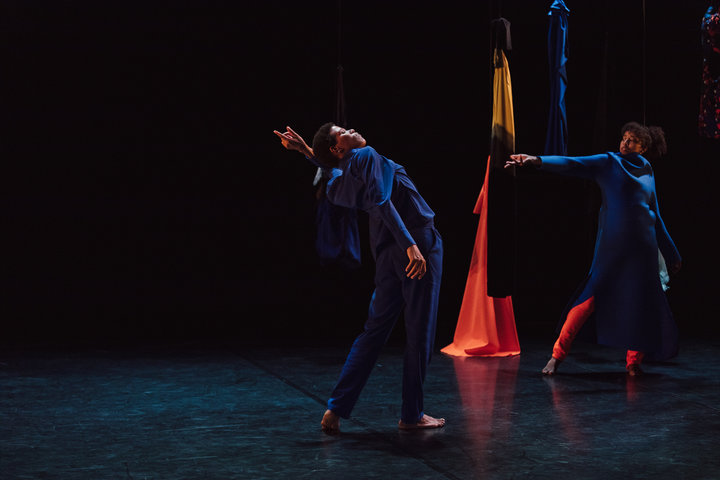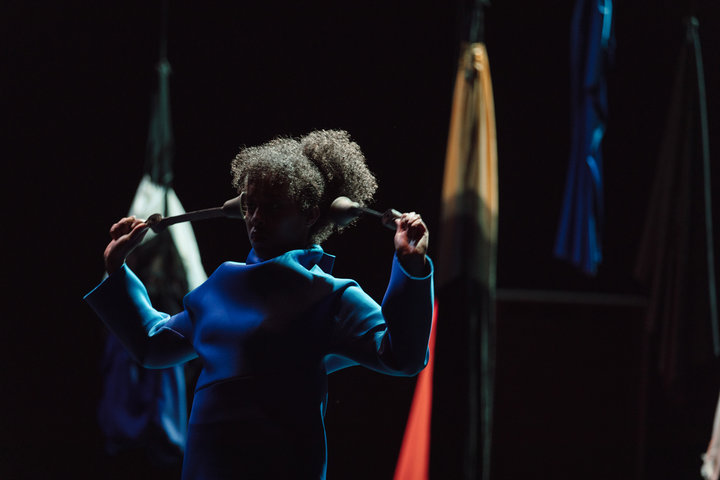 Six different biographies, six different voices, six different approaches. This is «Mailles», the latest creation by the France-based Rwandan-British singer, actor, dancer and choreographer, Dorothée Munyaneza.
The fives colleagues sharing the stage with her entered her life at different times. They are from Haiti, Spain, England, Holland and France. Today, Munyaneza says, she can no longer talk about herself without including the other women. In «Mailles» they recount their experiences with song, dance and spoken word, including poetry and flamenco. Their stories deal with violence, exclusion and oppression which intertwine into a collective tale of female power, resistance and survival.
The piece builds on earlier works by Munyaneza, which addressed the genocide in Rwanda or the traumatic experiences of rape victims. However, «Mailles» focuses on the beauty which arises from the mythic power of resistance and allows us to experience the combined might of these six Black women and their stories. (am)
Artistic direction and cast
| | |
| --- | --- |
| | |
| Konzept | Dorothée Munyaneza |
| Mit | Ife Day, Yinka Esi Graves, Asmaa Jama, Elsa Mulder, Nido Uwera, Dorothée Munyaneza |
| Künstlerische Zusammenarbeit | Stéphanie Coudert |
| Szenografische Beratung | Vincent Gadras |
| Dank | Hlengiwe Lushaba Madlala, Zora Santos, Keyierra Collins |
| Musik | Alain Mahé, Ben Lamar Gay, Alex Inglizian, Dorothée Munyaneza |
| Soundkonzept | Alain Mahé |
| Lichtkonzept | Christian Dubet |
| Produktion & Regieentwicklung | Emmanuel Magis, mit Unterstützung von Juliette Josse |
| Technische Leitung | Marion Piry |
| Licht | Marine Levey, Anna Geneste |
| Ton | Camille Frachet, Alice Le Moigne |
| Übertitelung | Carolin Seidl (deutsche Übersetzung), Olivia Amos (englische Übersetzung), Dòra Kapusta (Operator) |
| Foto | Leslie Artamonow |
Production
| | |
| --- | --- |
| | |
| Produktion | Compagnie Kadidi, Mascaret production |
| Koproduktion | Théâtre de la Ville (Paris), Festival d'Automne à Paris, Charleroi danse – Centre chorégraphique de Wallonie (Brüssel), Châteauvallon – Scène nationale, Théâtre de Saint-Quentin-en-Yvelines – Scène nationale, Le Grand T – Théâtre de Loire-Atlantique, CCN Ballet national de Marseille (Accueil Studio 2020), NEXT Festival / La Rose des Vents – Scène nationale Lille Métropole Villeneuve-d'Ascq, Théâtre national de Bretagne, Théâtre de Nîmes – Scène conventionnée d'intérêt national – art et création – danse contemporaine |
| Unterstützung | DRAC Provence-Alpes-Côte d'Azur, Ministère de la Culture, Fonds de dotation du Quartz – Scène nationale de Brest, La Chartreuse de Villeneuve lez Avignon – Centre national des écritures contemporaines, de la SPEDIDAM, du Département des Bouches-du-Rhône et de la Ville de Marseille |
Nord
Dance, singing, collective questioning of belonging
Duration
1:05 hrs.
Language
multilingual
Surtitles
German, English
An inclusive event
Sound inductively amplified, descriptive surtitles for people with hearing impairment
Safety Concept
For this event, a COVID certificate is necessary. Please present your ID or passport along with your COVID certificate at the entrance. There is no obligation to wear masks. See here for more information about your visit to the Theater Spektakel
Post-performance talk
Fri 20 August
Shows
shows from today
Th 19.08.

20:00 - 21:05

CHF 45.–/25.–

Fr 20.08.

20:00 - 21:05

CHF 45.–/25.–

Sa 21.08.

20:00 - 21:05

CHF 45.–/25.–