Mapa Teatro
La Balsada
Colombia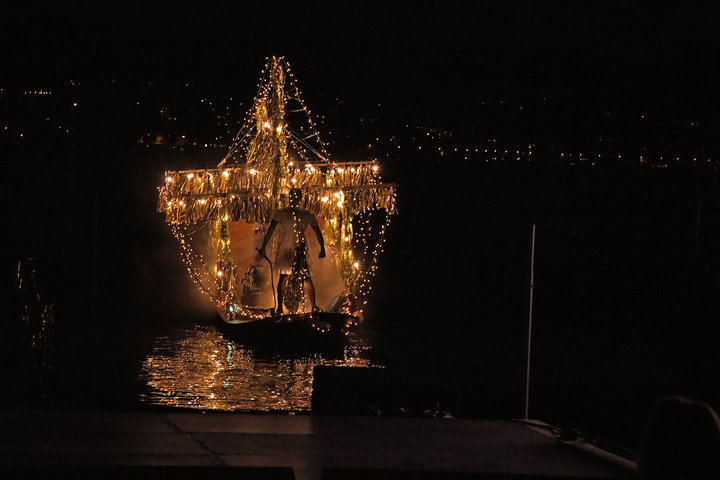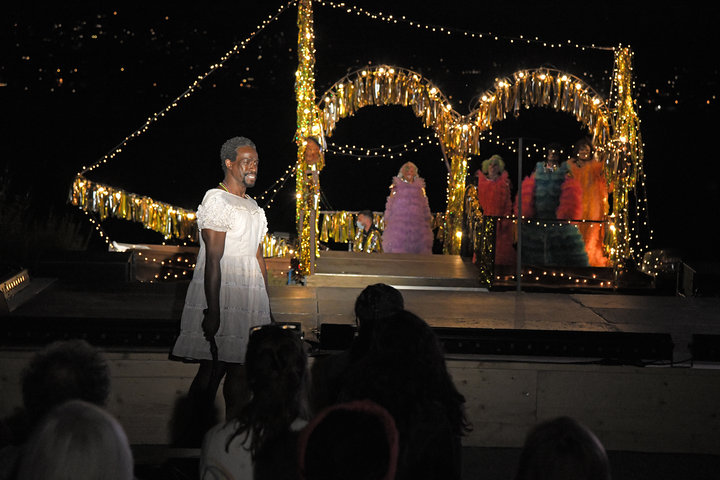 Music echoes over the water, a fantastically decorated boat lands at the shore. Men dressed in women's clothes, a whip in their hand, walk up and down the streets. This equally fascinating and shocking festival called «Los Santos Inocentes» (Holy Innocents) takes place annually in the small Colombian town of Guapi. The phenomenon inspired Mapa Teatro to develop a festive ritual for the shores of Lake Zurich, realised with documentary material, accordion and a boat.
The troubling proximity of celebration and violence in Colombia is a central theme of the company's artistic research. Originally a Christian tradition, «Los Santos Inocentes» harks back to a dance of the conquistadors and a local conflict between the FARC and the paramilitaries in the mid- 90s, which claimed the lives of 3000 farmers.
What seems poetic yet anarchic at first sight, has become a sad reality in recent weeks. The Cauca province, which Guapi belongs to, has become one of the hotspots of the current protests in Colombia. The strange proximity between celebration and violence is again striking. During the day, the roadblocks of mostly young protesters resemble a kind of carnival, whereas at night, the scene is transformed into a chaotic combat of all against all. (mvh)
Artistic direction and cast
| | |
| --- | --- |
| | |
| Konzept & künstlerische Leitung | Heidi Abderhalden, Rolf Abderhalden |
| Mit  | Heidi Abderhalden, Agnes Brekke, Andrés Castañeda, Julián Díaz, Miguel Molina, Santiago Sepúlveda |
| Bühnenbild  | Pierre Henri Magnin |
| Kostüme  | Elizabeth Abderhalden |
| Musik & Sounddesign  | Juan Ernesto Díaz |
| Livemusik  | Juan Ernesto Díaz, Miguel Molina |
| Video  | Ximena Vargas |
| Kamera  | Heidi Abderhalden, Lucas Maldonado |
| Schnitt  | Luis Antonio Delgado |
| Foto | ZTS/Christian Altorfer, ZTS/Kira Barlach
 |
Production
| | |
| --- | --- |
| | |
| Produktion & Inspizienz  | José Ignacio Rincón |
| Koproduktion | Zürcher Theater Spektakel |
Saffainsel
Performance ritual on the lake with video and music
Premiere, co-production
Duration
1 hr.
An inclusive event
Safety Concept
For this event, there is no obligation to wear masks and no COVID certificate is needed. See here for more information about your visit to the Theater Spektakel
Video installation
Experience «La Balsada» as a video installation from 19:00 to 21:00 hrs (free admission)
Open-air performance
In case of adverse weather, the performance will be cancelled. Information on potential cancellation on theaterspektakel.ch and Facebook no later than 2 hours before the start of performance
More
Shows
shows from today
Fr 20.08.

21:30 - 22:30

CHF 25.–/15.–

Sa 21.08.

21:30 - 22:30

CHF 25.–/15.–

Su 22.08.

21:30 - 22:30

CHF 25.–/15.–

Mo 23.08.

21:30 - 22:30

CHF 25.–/15.–