Mónica Calle & Casa Conveniente
Ensaio para uma cartografia
Portugal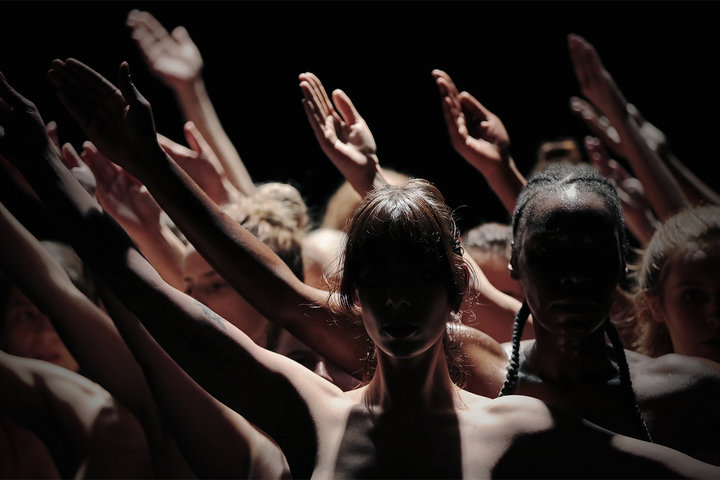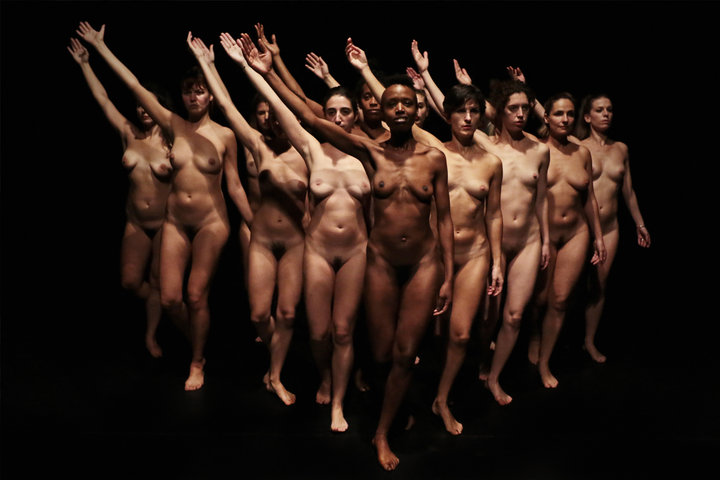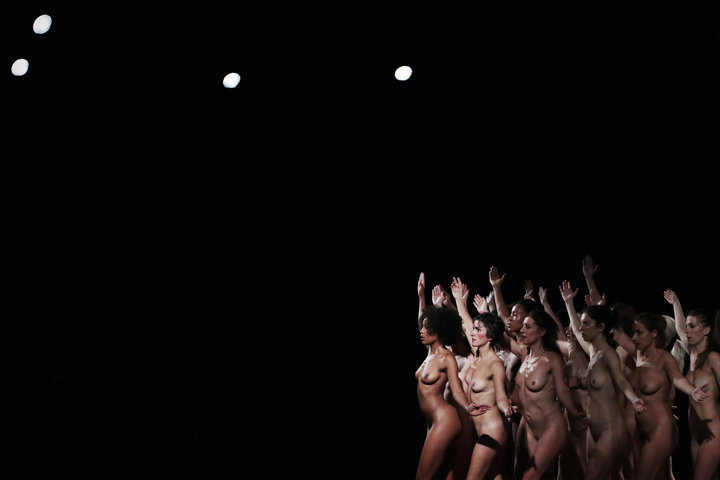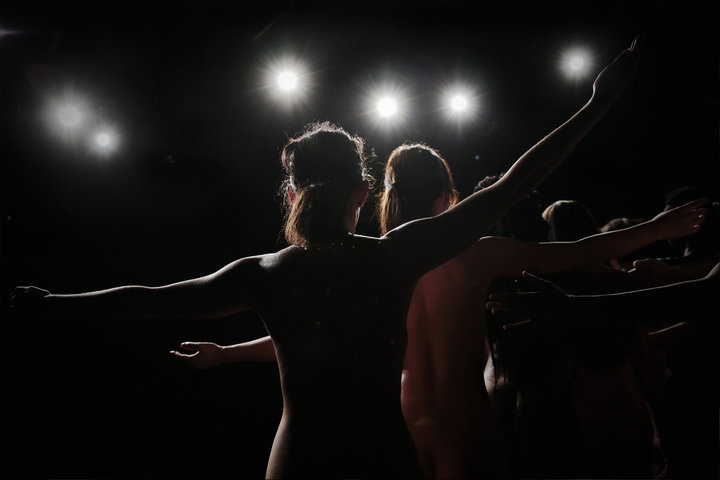 The production fails after the first few minutes. And then again, and again and again – almost to the end. Twelve women attempt to dance to the recording of an orchestral rehearsal of Maurice Ravel's «Boléro». Its conductor, Sergiu Celibedache, continues interrupting his orchestra and has the musicians start again. Without classical training, without clothes and without the necessary prerequisites, the performers on stage keep starting over and over again, until we almost forget what the actual objective of this all is. Yet the women achieve phenomenal feats. Their striving for perfection turns into an emancipatory resistance against patriarch-capitalistic meritocracy, maybe even into some kind of victory.
Director Mónica Calle founded her company Casa Conviente in the red light district of Lisbon over 20 years ago. Together with this community, she has radically scrutinised the fringes of Portuguese society. «Ensaio para uma cartografia» started out in 2014 as a local research project and has since passed many stages before becoming the company's first work for the national theatre of Portugal. The radical piece makes great demands on the performers as well as the audience and creates a moment of rare theatrical power. An evening which refuses a lot yet gives everything. (mvh)
Artistic direction and cast
| | |
| --- | --- |
| | |
| Regie | Mónica Calle |
| Regieassistenz | José Miguel Vitorino |
| Mit | Sofia Vitória, Mónica Garnel, Mafalda Jara, Sílvia Barbeiro, Lucília Raimundo, Eufrosina Makengo, Ana Água, Cleo Diára, Maria Inês Roque, Miu Lapin, Inês Vaz, Sofia Dinger, Carolina Varela, Marta Félix, Joana de Verona, Brígida Sousa, Inês Pereira, Joana Campelo, Joana Santos and Mónica Calle |
| Lichtdesign | José Álvaro Pereira |
| Licht | Renato Marinho |
| Sounddesign | Vasco Gomes |
| Produktionsleitung | Sérgio Azevedo |
| Foto | Bruno Simão |
Production
| | |
| --- | --- |
| | |
| Produktion | Casa Conveniente / Zona Não Vigiada |
| Koproduktion | Teatro Nacional D. Maria II |
Nord
Dance, politics of failure
Duration
2 hrs.
Age
16 years plus
An inclusive event
Sound inductively amplified
Safety Concept
For this event, a COVID certificate is necessary. Please present your ID or passport along with your COVID certificate at the entrance. There is also an obligation to wear masks. See here for more information about your visit to the Theater Spektakel
More
Shows
shows from today
We 01.09.

20:00 - 22:00

CHF 45.–/25.–

Th 02.09.

20:00 - 22:00

CHF 45.–/25.–